Back to Listing
Phil Horning
Posted on: 03/07/2017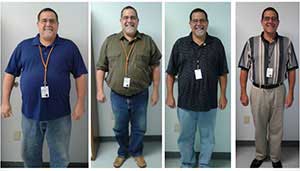 ---
Phil Horning was desperate to lose weight. After three years of attempting to have his bariatric surgery covered by insurance, he was planning a trip to Mexico to undergo the procedure. "I was so desperate for help, I was willing to risk my health and even my life for closure of this lifelong problem," he said.
Mr. Horning's weight gain began as a child and for nearly four decades he struggled with all of the challenges and heartache obesity can cause. "When I was ten I was diagnosed with hypothyroidism," he said. This condition occurs when the body lacks sufficient thyroid hormones which impacts the metabolism causing weight gain and increased difficulty in losing weight.
He began hormone therapy at age 12, but was already heavy. "I couldn't lose weight and was hungry all of the time," he said. "And as a teen I was teased a lot, and my family was always on me to get in shape. I definitely grew up with image issues." "I tried every kind of diet out there," he said. "You name it, I tried it. I would lose weight, but then gain it back with a vengeance." His health was failing in many areas. "I had high blood pressure, type I diabetes, high cholesterol and sleep apnea. I had pain in my back and knees." He was 289 pounds with a body mass index of 40. "I got to the point a couple of years ago where I felt I was dying," he said. "I couldn't see myself living to be 70."
Then what seemed like a miracle happened for Phil Horning. "I met Joanne Costello, the Bariatric Coordinator at Capital Regional's Bariatric Center. She told me that many of the insurance companies were beginning to loosen restrictions on this type of surgery and that I should try one more time to seek treatment here rather than leaving the country for it. She put me in touch with Anthony Wright, MD at Capital Regional Surgical Associates, and my journey to better health was underway."
Mr. Horning qualified for bariatric surgery and was scheduled to receive a sleeve gastrectomy. During a sleeve gastrectomy, the surgeon uses staples to create a thin vertical sleeve of stomach and then removes the rest of the stomach. The remaining sleeve is about the size of a banana. It simply reduces the amount of food an individual needs to eat to feel full. The rest of the digestive and absorption process happens normally.
At age 55, Mr. Horning is a success story. Since his March 2016 procedure, he has lost 115 pounds, 44 inches, and his health has improved dramatically. "My blood pressure and cholesterol medicine has been reduced; instead of 80-100 units of insulin a day, I'm down to 20-30 units." He has also stopped needing a CPAP machine at night for apnea. "I feel much healthier. I can exercise so my oxygen level is up. My complexion is better and the pain in my knees, joints, and back is gone."
He said a lot of little things have changed as well. "I can reach around now and put my belt through the center loop in the back. I can touch my toes and bend over and pick up trash on the floor rather than passing it by." He also says that while he's still in the 'honeymoon' phase of his weight loss, there are some challenges. "I've dealt with some depression. I had a relationship with my food. Sitting on the couch eating was a happy place for me. Now, I can't eat like that or I feel miserable. It's been like saying goodbye to a dear friend."
Mr. Horning points out that the support from his surgeon and the Bariatric Center have been vital to his success. "The support groups and individual counseling have been so helpful," he said. "They understand what has changed in your body and how you need to adjust." He points out that with a much smaller stomach it's important to make good choices. You can only eat a certain amount so you better make sure you are getting the nutrition you need. You can't eat empty calories."
"I am truly thankful to Dr. Wright, Joanne Costello, and the staff at the Bariatric Center for the inspiration, motivation and caring guidance they give to their patients who go through this process. My life has changed for the better and forever," he said.
Posted on: 03/07/2017