Back to Listing
Pete Butler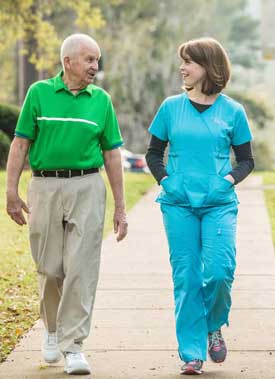 At 77 years old, Pete Butler has traveled the globe. From his military service, to working in U.S. Senator Richard Stone's office and representing military and veteran's affairs for the State of Florida, his view of the world is broad. He emphasizes those credentials when he talks about his experience at Capital Regional Medical Center and his belief that it is 'second to none' in its services and treatment of patients.
"I go to the hospital three times a week for the Cardiac Wellness Program," said Butler. "Due to a major heart blockage several years ago, I've had two interventional procedures with stents. Both were done at Capital Regional. I wouldn't go anywhere else."
"When I drop my car with the valet - they are smiling," said Butler. "When I pass the front desk - they smile. As I walk down the hall towards the wellness facility, staff members who don't know me stop and ask if I need help. Anytime we have gone to Capital Regional they have been great to me and my family. The hospital and people there are fantastic."
Butler has a decade-long relationship with Capital Regional that validates his expertise when it comes to recommending the hospital to others. And most recently, on a very personal level, he can testify to the true compassion the healthcare team has for its patients, every day.
It was during one of his visits to the hospital for his cardiac workout that he mentioned to his exercise physiologist Erin Garmon, ACSM-CEP, that he had been diagnosed with Parkinson's Disease. But he had a goal to participate in the annual Tulip Run, a fundraiser for the Parkinson's Foundation held at Cascade Park in Tallahassee.
"One day Pete came in to exercise and talk with all his friends, like he usually does, but while I was checking him in he told me that he wanted to participate in a 1-mile fun run. I chuckled a little and then told him it would take a lot of work -and less talking - to be able to walk faster, let alone to run and that he would have to increase his workload quite a bit to be able to do that in time for the fun run," said Garmon. "He was ready to give it his all, so I put him on a program to increase the intensity of his walks to prepare him for the race. I knew this meant a lot to Pete, so I offered to do the fun run as well to support him."
"Erin is the best," said Butler. "She's not just 'doing a job;' everyone is truly special to her. On the day of the Tulip Run she met me at the park to do the event with me. Halfway through, I stumbled and she literally picked me up before I hit the ground. She was my guardian angel, coaching me all the way. I don't know what would have happened if she hadn't been there." Butler, along with his 'angel,' finished the event in 16 minutes, 40 seconds - an achievement he credits to her patience and commitment to his goal to complete the race.
"For me, that mile was not hard, but for Pete it was a great accomplishment and I could tell he was beaming! It's moments like that, seeing patients do what they never thought they could, or what they were scared to do, in a safe way, that makes my work so rewarding," said Garmon.
Capital Regional's Cardiac Wellness Program is designed to provide patients with support after they've experienced a cardiac event or surgery. The well-trained, certified exercise physiologists work with patients to provide individualized exercise programming based on medical history. It includes cardiovascular and resistance training designed to build back cardiovascular endurance and muscular strength, while helping patients learn their limits and gain back confidence. This method of training accompanied with blood pressure, heart rate and oxygen saturation monitoring helps patients learn how much they can safely exert themselves while providing physicians with more frequent and detailed updates on how patients are progressing.
Generally, the Cardiac Wellness Program recommends 36 exercise sessions for patients following surgery (CABG - coronary artery bypass graft, valve replacement, etc.) or MI (myocardial infarction - heart attack). Patients who have been approved for the program by their cardiologist come 2-3 days a week and are helped along the way by trained professionals who design and alter exercise programming as needed for each patient based on how they progress. "Our goal for patients is for them to reach a maintenance phase after their initial 36 sessions, meaning they are performing 150 minutes of moderate intensity aerobic exercise and 2-3 total body resistance workouts each week (according to ACSM guidelines)," said Garmon. "Patients are free at that point to continue their exercise however they choose granted their physician approves. We want patients to have all the tools and knowledge they need to live a healthy lifestyle including proper exercise when they leave us."
Psychologically, the program provides a significant amount of support to participants from both staff and other members. The encouragement from others who have experienced similar life-altering events is priceless to patients who may become discouraged or feel alone in their battle to improve their health after they've been given a second chance at life. "Pete is one the regulars, coming consistently three days a week," said Garmon. "What, for most patients, starts as a long journey to recovery following heart surgery or a heart attack has evolved to a support group for a lot of the outpatients we see, including Pete."
Pete Butler agrees the benefits of the program are life-changing. "By staying in the program, I'm going to be able to continue to do these kinds of things, especially now with the Parkinson's diagnosis. I would highly recommend it to people who want to improve and then maintain their heart health. When you come to the program, they do what's right for each patient."
For more information on Capital Regional's Cardiac Wellness Program and other cardiac services, call (850) 325-5268.