Back to Listing
Deborah Pace
Posted on: 09/19/2017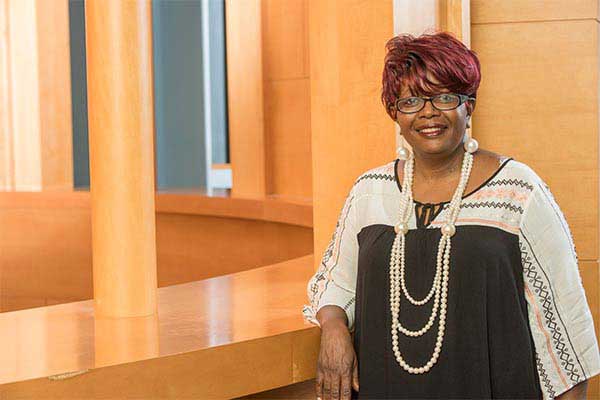 At age 54, Deborah Pace didn't think she had any serious health issues. She was being treated for asthma and high blood pressure, but those were being controlled by medication. So when she began having breathing difficulties on an October morning, she assumed it was the asthma acting up. Instead she was experiencing a life-threatening heart attack that would send her to Capital Regional Medical Center for expert care.
"I'd gone downstairs in my home and thought I was having an asthma attack," she said. "I called out to my niece for help. Then suddenly I lost control of my bowels and bladder. She immediately put me in the car and drove me Capital Regional's ER. As soon as we arrived the staff jumped into action. My oxygen level was very low and they took me directly to the Intensive Care Unit."
Carey Dellock, MD, an interventional cardiologist with Capital Regional Cardiology Associates, was called in to examine Ms. Pace. "It's unusual for an adult to be diagnosed with difficult to control asthma. The symptoms she was describing were that of congestive heart failure." Ms. Pace was experiencing difficulty breathing and extreme fatigue. According to Dr. Dellock, while men tend to have the more typical severe chest pain and describe it as such; women describe that pain as pressure. "We do a lot of education with women to help them understand that their symptoms can be very different than men."
Dr. Dellock let Ms. Pace know she was going for a cardiac catheterization, during which it was determined she needed open-heart surgery. "Time is critical when heart muscle is dying from a heart attack so having the best door-to-balloon time for a patient saves muscle," said Dr. Dellock. "But when it was apparent she needed more than an angioplasty or a stent, our surgical team was called in."
The diagnostic heart catheterization revealed that Ms. Pace had three arteries 100% blocked and a fourth that was 90% blocked. Jeffery Snyder, MD, a thoracic and cardiac surgeon with Capital Regional Heart and Lung Surgical Associates, performed triple bypass surgery to save her. "Our surgical team is extremely fast at responding and getting a patient to surgery as quickly as possible to restore blood flow and minimize the heart damage," he said. "She was very sick and had she not gotten to the hospital when she did, she would have died."
The Heart & Vascular Center at Capital Regional Medical Center has cared for thousands of patients throughout North Florida for more than 40 years. Dr. Snyder points out that the hospital is proud to have a very low mortality rate for patients. "The surgeon takes care of the patient from surgery until the day they go home. They are not passed off to another medical team. We have a very hands-on program and the surgeon is always available."
Ms. Pace is still on her health care journey. "I've had other complications since my initial surgery, but my doctors and the staff at Capital Regional have been there with me the entire way." Medication allergies required her doctors to experiment in order to find an effective and safe combination for her. A balance issue required her to also receive physical therapy at Capital Regional's Rehabilitation Services. "There was a time a time when I was seeing my doctor three times a week but I never felt like I was a burden. I always knew that when I was discharged from an episode of care, I would be restored."
Deborah says, "I was able to get married because of the care I received at Capital Regional Medical Center. I want to say to everyone there, thank you for paying attention in school. Thank you for your professionalism, knowledge, and for being providers who know how to support patients medically and emotionally. It takes a special people to care for the sick and there are not enough words to say how compassionate they were and how grateful I am."
Posted on: 09/19/2017