Inspiration. Imagination. Innovation.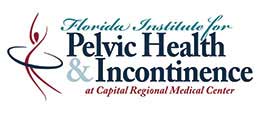 The Florida Institute for Pelvic Health & Incontinence at Capital Regional Medical Center is proud to present the HerPelvic Health Program! HerPelvic Health is designed to provide health tools that empower women. The Florida Institute for Pelvic Health & Incontinence offers vital education, screenings, and links to healthcare resources with the HerPelvic Health program. Our goal is to inspire women to become more involved in their pelvic health, and give them the tools and guidance to do so effectively.
What We Treat and Offer
Urinary, Stress, Urge, Fecal & Overflow Incontinence
Pelvic Organ Prolapse
Advanced Pelvic Surgery
Painful Bladder Syndromes, Including Interstitial Cystitis
Excessive Urination
Constipation
Fistulas
Recurrent Urinary Tract Infections & More…
FAQs
The pelvic floor is a set of muscles, ligaments and connective tissues in the lowest part of the pelvis that provides support for a woman's internal organs, including the bowel, bladder, uterus, vagina and rectum. A PFD occurs when women have weakened pelvic muscles or tears in the connective tissue, which may cause:
Bladder control problems
Bowel control problems
Pelvic organ prolapse
PFDs impact 1 in 3 women, are a normal part of aging and can be treated successfully!
Symptoms generally begin gradually, and the natural history is for symptoms to progress with time. They may vary among women, but can include:
Bladder control problems
Urine leakage
Overactive bladder
Difficulty emptying the bladder
Urge Suppression Strategies –"Freeze and Squeeze"
If you have trouble reaching the bathroom before you start losing urine, we recommend trying this technique. When you get the urge to urinate:
Stop and stay still, sit down if you can
Squeeze your pelvic floor muscles quickly 3 to 5 times; repeat as needed
Relax the rest of your body and take a deep breath
Concentrate on suppressing the urge
Distract yourself to get your mind on something else
Wait until the urge subsides, then walk to the bathroom at a normal pace
Don't ignore the message
Bladder Training: Once you have mastered the Urge Suppression technique, you can now train your bladder to increase the time between the initial urge and the time you actually void. Simply follow the Urge Suppression technique, but instead of walking calmly to the bathroom at your normal pace, you will wait a few minutes before voiding. At first you may only be able to postpone voiding by 1 minute, but keep trying to increase the interval between the initial urge and the time you actually void until you are only voiding every 3 to 4 hours. Like any new technique, this takes practice and time to master, so we recommend trying this at home initially until you become more successful.
Bowel control problems
Infrequent bowel movements
Constipation or diarrhea
Hard bowel movements
Abnormal stool consistency
Pelvic organ prolapse
Bulging, pressure or heavy sensation in the vagina that worsens by the end of the day or during bowel movements
Difficulty starting to urinate or a weak or spraying stream of urine
Urine leakage with intercourse
They may vary among women, but can include:
Age
The strength of the pelvic floor deteriorates as women age, which can lead to the development of pelvic organ prolapse
Race
The strength of a woman's bones, muscles and connective tissue are influenced by genes and race. Women born with weaker tissues are at a greater risk for developing pelvic organ prolapse. Caucasian women are more likely than African American or Asian women to develop prolapse.
African American women are more likely to have urinary leakage related to urgency while Caucasian women are more likely to have leakage related to coughing and sneezing.
Pregnancy/Childbirth
Childbirth can contribute to the development of PFDs. Vaginal births double the rate of pelvic floor disorders compared to Cesarean deliveries or women who never gave birth.
Menopause
The pelvic floor muscles often weaken during menopause, which can lead to the development of pelvic organ prolapse.
Obesity
Overweight or obese women have increased pressure on the bladder and often lack strength in their pelvic muscles, and they are at an increased risk of developing pelvic organ prolapse and urinary incontinence
Diet
When there is not enough fiber or water in a woman's diet, bowel movements are more likely to be hard or irregular. Processed foods can lead to constipation. Certain foods also can irritate the bladder, making women feel like they have to urinate. Bladder irritants include caffeine and alcohol.
Smoking
Women who smoke increase their risk of developing urinary incontinence and pelvic organ prolapse
Heavy Lifting
Certain occupations, usually those that involve heavy lifting or exertion, can increase the risk of developing PFDs
Sexual Dysfunction
Pelvic floor symptoms are significantly associated with reduced sexual arousal, infrequent orgasm, and painful intercourse (known in medical terms as dyspareunia).
Constipation/Chronic Straining
Conditions that promote prolapse include constipation and chronic straining. Straining with constipation put significant pressure on the weak vaginal wall and can further thin it out.
Pelvic Injury/Surgery
Loss of pelvic support can occur when the pelvic floor is injured from falls, car accidents or surgery. Hysterectomy and other procedures that treat pelvic organ prolapse can sometimes cause further prolapse.
Lung Conditions/Chronic Coughing
Chronic respiratory disorders can cause increased pressure in the abdomen and pelvis, which increases the risk of pelvic organ prolapse
Power in Numbers!
Join the fight against PFDs, and take control of your own pelvic health. Join us for our next HerPelvic Health event! Join h2u (Health 2 You) and become part of a special group that enjoys healthy living! Follow the womenswellnesscrmc.com blog for health tips! Follow Capital Regional Medical Center on social media and get involved in the online community!
Follow us Capital Regional Medical Center on Facebook, Twitter, LinkedIn, Pinterest, and Instagram to stay up to date with the HerPelvic Health program!
Helpful Links
To learn more about the HerPelvic Health program, or to find out about our next seminar, free screening, or symposium, please call (850) 325-3627.