About Gadsden ER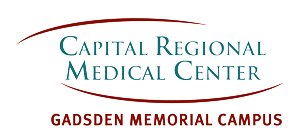 At Capital Regional Medical Center's Gadsden ER, we are proud to bring high-quality, convenient emergency care to the residents of Gadsden County and its surrounding area. Our Gadsden emergency room (ER) is open 24/7 in Quincy, Florida.
For more information about our Gadsden ER, call us at (850) 875-6000.
Before Gadsden ER opened, emergency medical technicians (EMTs) had to take Gadsden County patients to Tallahassee for treatment. Not only was this very dangerous for patients experiencing life-threatening emergencies, but it was also very costly. That's why we are proud to offer our full-service, freestanding ER in Quincy. Patients can now receive fast, expert care for medical emergencies without the 30-minute drive.
Features of Gadsden ER
At Gadsden ER, you will receive the same level of care you would expect from the ER at Capital Regional Medical Center. Our freestanding ER is equipped with advanced medical technology to meet our patients' immediate healthcare needs in a convenient location.
Some features of our ER include:
Emergency medical services available 24/7
Physicians, nurses and staff trained in emergency care
Laboratory tests and imaging services, including computed tomography (CT) and X-ray