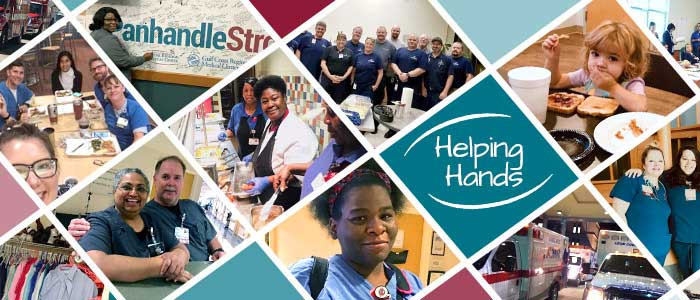 Above all else, we are committed to the care and improvement of human life.
Capital Regional's collective response to Hurricane Michael, an unprecedented regional disaster was vast and far-reaching. Our care team and physicians have cared for more than 350 patients that were evacuated from the Panhandle since the hurricane made landfall. We will continue to be a beacon of hope during a time of great need as our sister communities rebuild. Capital Regional will remain a principal receiving facility for the Panama City region - our role as a regional healthcare leader will be ongoing. Together, we are #PanhandleStrong.
Highlights of Capital Regional's collective response to Hurricane Michael
0:00: Pan shot of Capital Regional Medical Center Emergency Room entranceway
0:02: Bus shown with several people in front of it
0:05: Shot pans to close shot of Leon County EMS Ambulance
0:08: Pans over to road, one ambulance is driving away
0:10: Shot pans back the other way
0:11: Man walks behind ambulance
Response before, during & after Hurricane Michael
600+ care professionals worked, took shelter and cared for patients through the storm in both Tallahassee and Gadsden County
7 children per day (3 days) enrolled in Capital Regional's temporary day-care services provided by our behavioral health social work team throughout the storm
15 staff pets were cared for at off site veterinary clinic paid for by Capital Regional
22 physicians and families were provided shelter as they rode out the storm at Capital Regional
42 family members of staff sheltered with us during the storm and were provided food and electricity
15 hospitalists brought in to care for patients
200+ meals were provided to local EMS agencies
Capital Regional Gadsden Campus housed Gadsden EMS crew and EMS strike teams from Tennessee
Capital Regional's leadership team spent the night at the hospital and emergency operations command center was open 24 hours per day
47 special operations personnel were secured to care for the patient surge after the storm - nurses, techs, etc.
100 affected patients & family members, new moms and babies from Panama City have been provided meals, clothing and supplies
350+ patients have been cared for from the affected regions since Hurricane Michael
13 helicopters, 2 ambulance buses (7 patients/bus), and more than 30 ambulances and transport vehicles brought to Capital Regional with affected patients on Thursday after the storm
Census reached an all-time high of 299 patients and Capital Regional never closed our doors and continued providing life-saving care to the local community as well
Provided 100% of transport costs back to Panama City for victims
$16,500 in gift cards given to staff
HCA (Capital Regional's Parent Company) has given $1M to the Red Cross
HCA (Capital Regional's Parent Company) has given out over $500,000 of Hope Fund payments to employees
Providing 100% of salaries to employees displaced from our sister-facility, Gulf Coast Regional Medical Center
HCA's (Capital Regional's Parent Company) emergency command center supplied the following from Jacksonville and New Orleans to Tallahassee:
20 tele boxes
5 fetal heart rate monitors
60 cots for staff quarters
7 ventilators
25 inpatient beds

20 SCD machines
20 IV Pumps with 2 channels

6,000 gallon diesel tanker with daily top off capacity
800 gallons of unleaded fuel
1 CAT generator to back up permanent back-up generator
Linens, scrubs, suction canisters, daily food deliveries, thousands of gallons of water, and more