Volunteering at Capital Regional Medical Center
Our volunteers are a vital part of our healthcare team and make an impact and lasting impression on not only our patients' lives but on our staff and visitors as well. Above all else, we are committed to the care and improvement of human life.
At this time, we are currently accepting applications for Adult Volunteers. We will be launching Student Volunteer Applications soon.
Benefits of Becoming a Volunteer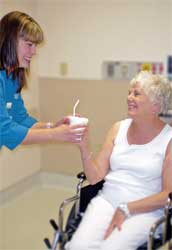 Through volunteering, you may utilize your skills and abilities to help improve the lives of others and serve our community. Volunteering provides a sense of purpose, helps you stay physically and mentally fit, allows you to develop new skills, make new friends and create lasting impressions along the way.
For each volunteer shift served, you will receive one meal credit.
Service Areas Currently Available
Welcome Desk
Same Day Surgery
Pre-Admission Testing
Administrative Assistance
Pastoral Care
Gift & Snack Shop
*We strive to match our volunteers in their preferred area of choice though this is not always possible due to availability. During the application process, please make your preferences known so that we can re-assign you should your preferred area become available.
Expectations and Scheduling Requirements
Shifts are scheduled Monday through Friday in four hour blocks. Your assignment will be determined and scheduled one calendar year at a time.
Commitment minimum: Four hours per week
Consistent and timely attendance is required
Volunteer Application Process
To request a volunteer application, please reach out to Mary Fran Andree, Volunteer Services Coordinator at 850-325-4005.
Upon review of your application, our Volunteer Services Coordinator will call you to conduct a phone screen.
If approved for a volunteer position, the following steps will need to be conducted prior to beginning your new volunteer role:

Consent to and Pass Background Check
Complete and Pass Drug Screen
Provide Proof of vaccination records including Covid and Influenza records
Conduct a scheduled Health Screen onsite
Meet with the Volunteer Coordinator
Attend and successfully complete a scheduled two day orientation class
For more information: Call Volunteer Services at 850-325-4005.