Volunteers at Capital Regional Medical Center often discover the heartfelt thanks they receive from patients and staff is worth the time they give up to be here. Whether it is a grateful smile or a word of thanks from a patient or family member, our volunteers know they are welcomed and appreciated.
Becoming a volunteer is very easy because you can match your volunteer schedule to fit your lifestyle – just four hours to spare each week. At Capital Regional Medical Center, volunteers work to make a difference.
Volunteers Help By...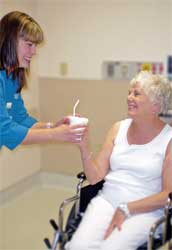 ...Joining our staff to provide compassion and a show of commitment, integrity and a sense of discovery. Volunteers also allow us to provide services that otherwise would not be available without their time and dedication. Opportunities to make a difference include:
Greeting and guiding patients and visitors.
Keeping in touch with the surgical progress of a patient.
Volunteering in the gift shop.
Keeping families of Emergency Department patients informed.
Delivering newspapers to patients.
Offering assistance in outpatient areas.
Clerical support.
Making special gifts for patients hospitalized during holidays.
Comfort cart and floor assisting.
Our Volunteers are...
...Adaptable, versatile, and responsive under diverse circumstances. Volunteers are also:
Dependable in honoring commitments to patients and staff.
Flexible in adapting to situations accordingly, even when viewpoints differ from their own.
Sympathetic to the feelings and ideas of patients and visitors.
Discreet in respecting the hospital's rules of confidentiality.
Capital Regional Medial Center Volunteers Receive...
Awards: Service awards are presented to volunteers at various stages of service.
Training: Hospital orientation and volunteer service training are provided by Capital Regional. Volunteers are required to attend one orientation session annually to become reacquainted with hospital policies and procedures. Tuberculosis screenings and flu shots are provided and required annually.
Uniforms: We provide one uniform for our volunteers. Identification name badges are supplied by the hospital as well.
Interested?
Call Volunteer Services at Capital Regional Medical Center at (850) 325-5116.