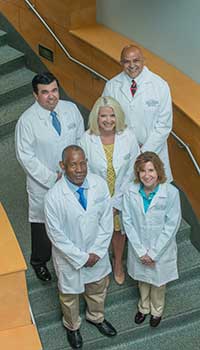 Tallahassee, FL – Capital Regional Cardiology Associates (CRCA) and Capital Regional Medical Center (CRMC) are pleased to announce several physicians have joined CRCA to form a comprehensive cardiology practice. Michelle Bachtel, MD, Ernesto Umana, MD, and Joseph Baker, MD, of Tallahassee Cardiology Associates have joined Carey Dellock, MD, and Niraj Pandit, MD expanding the services of the cardiology program at Capital Regional Medical Center.
"This is an exciting time for us and we are fortunate to add to the already dynamic cardiology team of Dr. Pandit and Dr. Dellock. Doctors Baker, Bachtel and Umana have been a part of this community for many years. They bring quality care and a superb reputation to the table," says Brian Cook, President and CEO of Capital Regional. "All of the physicians at Capital Regional Cardiology Associates are a tremendous asset and share in our dedication to offer the best care for our patients."
Both Dr. Pandit and Dr. Dellock have been part of the Capital Regional network of care for nearly two years. Dr. Dellock recently moved from Capital Regional Medical Group as an internal medicine physician to CRCA, as the only female interventional cardiologist in the Big Bend region.
Collectively, the CRCA physicians have an impressive resume. Dr. Dellock attended medical school at the Pennsylvania State University College of Medicine and at the Duke University Medical Center.
Dr. Pandit was trained at the Medical College of Pennsylvania and Hospital. Dr. Bachtel attended the University of Missouri, Columbia School of Medicine. Dr. Baker attended the Indiana University School of Medicine and Dr. Umana attended medical school at the Universidad Francisco Marroquin.
CRCA offers diagnostic testing, interventional cardiac and vascular treatment, coronary balloon angioplasty/stents and more. Our physicians use advanced technology to help diagnose cardiovascular disease and are committed to providing the least invasive, most effective treatment possible.
Capital Regional Cardiology Associates has two locations:
Main Campus
2770 Capital Medical Blvd, Suite 109
Tallahassee, FL 32308
Office phone; 850-877-0216
Centennial Location
2631 Centennial Blvd., Suite 200
Tallahassee, FL 32308
Office phone: 850-656-7265
For more information please visit CapitalRegionalCA.com.
News Related Content