Innovative Care for Kids: Capital Regional's Pediatric Emergency Room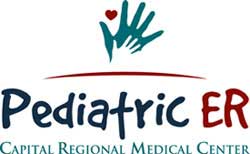 The team at Capital Regional Medical Center believes, when it comes to an emergency, the best story is a short story. That's why the hospital has long been known for boasting the shortest emergency room wait times in the area.
Capital Regional Medical Center Pediatric Emergency Room provides excellent emergency care for children, while easing the stress often associated with a visit to a hospital. Parents will be glad to know their children are being cared for by a team of pediatric professionals.
"As any parent will tell you, the health and well-being of a child is of the upmost importance," says Ann Smith, Chief Nursing Officer at Capital Regional Medical Center. "Our pediatric team will treat injuries and illness quickly while addressing the specific needs of children to make their hospital visit less intimidating."
The Pediatric Emergency Room at Capital Regional Medical Center hosts a child-friendly atmosphere to soothe anxiety and help children feel more comfortable. Instead of being treated alongside adults with varying injuries, the Pediatric Emergency Room is for kids only.
Capital Regional Medical Center adds to its capabilities with a Pediatric Inpatient Unit to care for children that need to be admitted to the hospital.
To compare other local hospitals' ER Care Stats, visit Medicare.gov