Pediatric ER
Innovative Care for Kids: Capital Regional's New Pediatric Emergency Room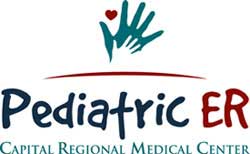 The team at Capital Regional Medical Center believes, when it comes to an emergency, the best story is a short story. That's why the hospital has long been known for boasting the shortest emergency room wait times in the area. In 2011, the hospital provided emergency care to more than 83,000 patients, 12,000 of them children, with an average wait time of 25 minutes to see a physician.
Capital Regional Medical Center Pediatric Emergency Room provides excellent emergency care for children, while easing the stress often associated with a visit to a hospital. Parents will be glad to know their children are being cared for by an elite team of pediatric professionals.
"As any parent will tell you, the health and wellbeing of a child is of the upmost importance," says Ann Smith, Chief Nursing Officer at Capital Regional Medical Center. "Our pediatric team will treat injuries and illness quickly while addressing the specific needs of children to make their hospital visit less intimidating."
The Pediatric Emergency Room at Capital Regional Medical Center hosts a child-friendly atmosphere to soothe anxiety and help children feel more comfortable. Instead of being treated alongside adults with varying injuries, the Pediatric Emergency Room is for kids only.
Capital Regional Medical Center adds to its capabilities with a Pediatric Inpatient Unit to care for children that need to be admitted to the hospital.
At Capital Regional Medical Center, we're dedicated to providing the highest quality care to our community," says Brian Cook, President and Chief Executive Officer of Capital Regional Medical Center. "The Pediatric Emergency Room and Inpatient Unit will allows us to continue to offer the best care for the Big Bend's youngest patients in an innovative way that provides the greatest comfort for parent and child."
A dedicated emergency room makes sense for a community like Tallahassee. With 66 percent of its population under age 44, Tallahassee is a young city, especially compared to the rest of the state of Florida. Young families make up a large part of the demographics, with more children under age 17 than the state average.